The oldest, shortest words – "Yes" and "No" – are those which require the most thought.

– Pythagoras
Why is P2 so harsh and apathetic?
Incident 1
P1. Can I please borrow a pencil ?
P2. No.
Incident 2
P1. Can you please lend me a hand ?
P2. No.
Incident 3
P1. Please let me borrow your car for today?
P2. No.
Incident 4
P1. Please teach me this topic tonight.
P2. No.
P1 is so polite in asking for help , P2 should help them. Now , now wait a second. What if I tell you –
– P2 had only 1 pencil which they needed for their own work.
– P2 had a deadline due in 2 hours for the assignment which would count as 50% of their grade.
– P2 has to pick their parents from airport .
– P2 is yet to revise the left 40 % of the syllabus for tomorrow's test.
Well, does our P2 seem that bad of a person now ? – NO
'No' – a word which we have been conditioned to see in a negative light right from childhood. Saying no to someone asking for help is rude, no to opportunities is entitlement, no to abuse warrants more abuse or shame or being dramatic, no to social norms is rebellion. What we tend to forget is, not all no's are negative. Wanting our own space is not selfish. No to more than we can handle is not being thankless.
Why this topic today?
I have been a people pleaser for as long as I remember. As a kid I would participate in everything I was presented with and felt like a failure for even thinking that I don't want to do this because 'I am lucky I am getting so many opportunities, not everyone has them.' There would be times when every week I have a new art project or competition and I would be complaining to my family about how burdened I am . They would tell me to say no to my teachers but I could never muster up the courage to do so. I would keep helping and listening to mum when told to do something regardless of what I was busy with. I thought that I was a super helpful person as idolized by the society, should listen to elders, help friends and family even if it the cost is my own mental, emotional or physical well being.
All this continued till I was 16, when I was going through tough times and was at a very bad place mentally. Years of internalizing, bitterness and neglecting myself led me to hate everyone I loved, hate my own existence and to a severe burnout. With lockdown, lives finally slowed down enough to give time to rethink habits, patterns and pains. That is when I came across the term Boundaries. I thought boundary always meant division and discord and made people distant, but little did I know they were one of the most crucial parts of mental peace and a fulfilling life.
Boundaries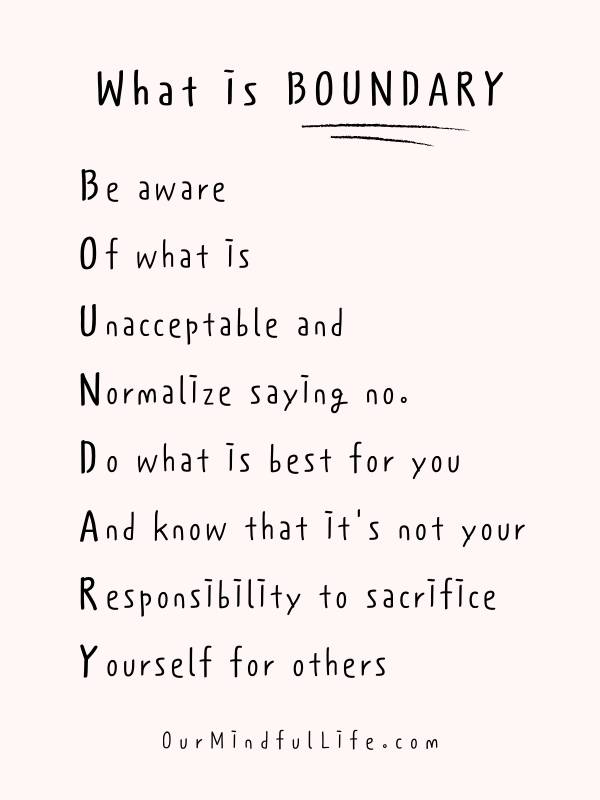 The side of the world I live in or have been exposed to (excluding internet), mental health conversations are fictitious. I still sometimes wonder how come I dabbled into this vast universe of mental and emotional well being. I would describe myself as an abso-lute-lyyy miserable teen 😭. Existential crisis, hormones, sexuality, career – like sudden bombardment of issues and important decisions with no warnings. Trying to fit in, confused if your friends are right or parents , with obvious inclinations towards folks who are not a generation older than me. But, if you know anything about Indians , its Family being a huge part and priority of life with often blurred or non-existent boundaries. (This post won't steer in the pros and cons of family direction 😂) All through the past two years I still continued to listen to people's problems when I myself am on the verge of breakdowns. Holding myself accountable for people's moods and well being when its not under my control at all . Taking on work when I am swamped with assignments already. Being part of activities or conversations which I am 100% aware will leave me exhausted. Over involved in other people's relationships and problems. It was only in 2022 when I finally addressed and accepted to myself that I absolutely have to do something about it. I started with really small things
– No, I don't really like that
– No I don't want to eat that
– No I can't listen to you today
– No I don't want to talk about that right now
– No I can not participate in that I already have a lot on my plate

I am not telling the importance of boundaries as a pro at setting them , or some dramatic change happened to me where suddenly i flipped from being a people pleaser. No, I am telling this as a fellow sufferer who ended up drained, bitter and blaming others for misery when the actual problem was my own inability to say a simple word-'No'. I still rather often revert to my people pleasing ways, spending hours on phone calls or listening to people venting , supporting them , on days when I can not deal with it . But, I respect my own progress. In some huge life decisions, thoughts and ideals I protect and reaffirm my boundaries which I did not , even 10 months ago. From a person who had almost no individuality , today I am pretty confident in my own ideas. I still have a very long way to go but I know I have come a long way too. Small things count a lot. If I compare the usage of words -maybe, just and like – in my old posts , to their usage in current times , I see I have changed. I actually like the person who I am becoming , who can protect, love and care for herself and motivate others to do the same. Being a better individual isn't beneficial only for ourselves but for those around us too.
There is so so much I can talk about this topic because saying no is just a small part of boundaries. Maybe a part 2 about like really small things people might not mention or count but are stepping stones to boundaries and rather easier than hugee steps. Famous saying in Hindi – ' Boond boond se sagar bharta hai'- Drop by drop fills the ocean. So comment if you would like more about this topic of boundaries. I might share some of the articles I found really helpful. (I do not want to spread any sort of false or harming info so will take some time to think if those sites are reliable or not).
Lastly , very important, everything on the post is my personal opinion. There are 1000's of articles on the same topic on the internet and I am aware of this. Personally I love getting to know about people's lives, stories and struggles which makes us feel like we are not alone in thinking things, we are not weird or should be guilty of thoughts. And I love to hear your thoughts , any thoughts , whatever came to mind reading this post, do comment. Love you all. Take care.